Caracole Flagship Store Opening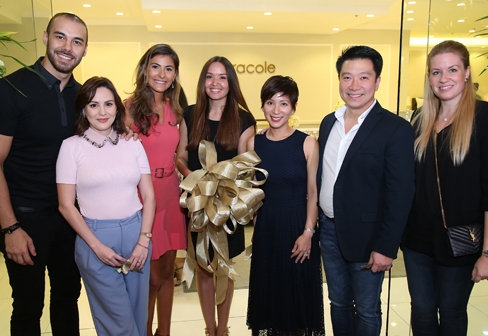 A new opportunity has come for home owners, interior designers, and design enthusiasts to experience Caracole's authentic designs and impeccable craftsmanship as Dexterton, the brand's exclusive distributor in the country, had launched the first Caracole flagship store in Greenbelt 5, Makati City, last September 21, 2017.

"We're very pleased to be partnering with Dexterton to add our third Caracole retail location in The Philippines," says Scott Smith, Caracole's president and CEO. "Caracole's distinctive, fashion-forward aesthetic resonates with consumers around the world and we're excited to be expanding our presence in the country. The addition of the new location in Makati brings our international retail presence to more than 70 locations in 40 countries, and illustrates our commitment to bringing Caracole home furnishing to design-oriented consumers around the world."

Marking its official opening, Dexter Go, Vice President of Dexterton Corporation, Audrey Go, Assistant Treasurer, and Linnea Backman of Projects Division, led the ribbon-cutting ceremony, along with Caracole's Asian Brand Managers, Luiza Fogaca and Assel Tursynbekova, and special guests Doug and Cheska Kramer.

Caracole has impeccable attention to the creation of unique silhouettes, fine craftsmanship, chic details and exclusive materials as Luiza implied during the press conference. "We create lifestyle furniture that is considered durable for home and we have been the fastest growing American brand since we were founded."
Assel adds, "It is hard to define one signature style for Caracole as our different portfolios such as Caracole Classic, Caracole Modern and Caracole Signature, allow us to talk to a different set of consumers from a broad range of age, income and geographic locations."

The new showroom is set to feature from all three of Caracole's product portfolios. Currently, it houses its main streamline Caracole Classic and Caracole Modern which guarantee a wide variety of items specifically designed to suit any home and lifestyle. The showroom will also soon be carrying the bespoke Caracole Signature collection with every piece boasting of regal style crafted from elegant materials and highly-polished finishes.

Behind Caracole designs are outlines of different cultures, lifestyles and travel scenes around the world. Inspiration then turns into ideas, which are refined by Caracole designers and engineers and between inspirations to seeing a product on the retail locations worldwide, it may take up two years, according to Luiza.

As she and Assel introduced some of the brand's classics and bestsellers, they also led the guests and clients into exploring the unique details and features of some of Caracole's signature items.

"Our Sociable and Socialite cocktail tables have the Caracole DNA and have been in line since the beginning in 2009. The pattern has become so popular that we have turned it as our signature pattern," says Assel.
The gorgeous Turn A New Leaf buffet cabinet made of Koto wood is one of Luiza's favorites, decorated with champagne colored leaves in front that was inspired by a Japanese wallpaper. The neutral color sparkles, thanks to the shimmer on the silk screen finish. Moreover, the beautiful custom hardware is all made of crystal.

As far as upholstery, the Ice Breaker lounge chair is one of Caracole's bestsellers, and now available in dark grey fabric and 3-seater sofa shape. Stunning in every angle, Lattice Entertain You sofa set is also one of the most favored pieces around the world with its exposed wood frame and an open Morrocan-inspired fretwork design on each arm panel. Unlike other furniture brands in the market, Caracole offers a lifetime warranty for its upholstery frames.

At the end of the press conference, everyone was treated to a luscious collation while one lucky guest was called out for the raffle draw and won the classic Finesse accent chair.
---
---
Gallery